Calgary Airport Lethbridge Charter Sedan, Van or Minibus
Sedan, van and minibus service between the Calgary Airport or Calgary and any hotel or residence in Lethbridge, Coaldale, Coalhurst and Southern Alberta.
Lethbridge Airport Southern Alberta Charter Van Service
Service offered between Lethbridge and Lethbridge Airport and towns, ranches or farms in Southern Alberta
Airporter / Airport Shuttle Express Lethbridge Charter Service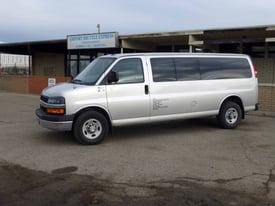 | | | |
| --- | --- | --- |
| Calgary Airport TO Lethbridge | Private Charter | Lethbridge TO Calgary Airport |
| $425.00 | 3 Passenger Cadillac Sedan | $425.00 |
| $575.00 | 6 Passenger Cadillac Escalade | $575.00 |
| $575.00 | 6 – 13 Passenger Van | $575.00 |
| Email Us for a rate | 234 Passenger Minibus | Email Us for a rate |
Lethbridge Charter Van Service
This is the fast "door-to-door" service between Calgary International and your hotel or or residential address in Lethbridge!
We will travel anytime subject to road/weather conditions.
We can take you most anywhere in Lethbridge or Southern Alberta. (prices may vary depend on locations outside of Lethbridge).
It is great for small groups.
Advance reservation are required.
Service between the Calgary Airport and Lethbridge is about 2.5 hours and is subject to good road and weather conditions.
The driver will meet you in the luggage claim area of your airline (domestic) OR for International Arrivals in the terminal at the exit from Canada Customs!
The driver will be holding sign with your name or the company name which you have advised us.
COSTS INCLUDED:
EXTRA COSTS :

A tip to the driver
The 5% Canadian Goods and Service Tax (GST)

TERMS & CONDITIONS:

Terms/Conditions vary depending on the equipment. Please ask at the time of booking or rate quote.

TO BOOK:
Lethbridge Airport – Southern Alberta – US Border Van Charter Service
A four (4) passenger van service is offered between the Lethbridge Airport and towns, ranches or farms in Southern Alberta. This service is also available from the Red Arrow Lethbridge bus stations. The driver will meet the bus at the arrival bus station OR in the luggage claim area of their arrival flight at the Lethbridge Airport.
COSTS INCLUDE:
Prices include basic cost
EXTRA COSTS:
Optional tip directly to the driver
The 5% Goods and Service Tax
TERMS/CONDITIONS & CANCELLATION:
Please ask for the terms/conditons at the time of booking.
TO BOOK:
| | | | | |
| --- | --- | --- | --- | --- |
| Between Lethbridge Airport OR Bus Station &: | 4 Passenger Van | | Between Lethbridge Airport OR Bus Station &: | 4 Passenger Van |
| Aden | | | Magrath | |
| Blairmore | | | Medicine Hat | |
| Burdett | | | Milk River | |
| Bow Island | | | Monarch | |
| Carway | | | Mountain View | |
| Cardston | | | New Dayton | |
| Chief Mountain Border | | | Nobleford | |
| Claresholm | | | Pincher Creek | |
| Coaldale | | | Picture Butte | |
| Coalhurst | | | Taber | |
| Coutts on USA Border** | | | Raymond | |
| Crowness Pass | | | Skiff | |
| Del Bonita | | | Spring Coulee | |
| Fernie, BC | | | Standoff | |
| Fort Macleod | | | Stirling | |
| Formost | | | Vauxhall | |
| Frank | | | Warner | |
| Glenwood | | | Waterton Townsite | |
| Grassy Lake | | | Welling | |
| Lethbridge | | | Wild Horse | |